News post 1
March 31st, 2015 by ggadmin
Well, here we are!  This is my new web site which has just gone live today 31st March, 2015.  I am looking forward to sharing news and photographs of my latest paintings and sculptures along with other exciting art events with you all.  For me life is art and art is life….And may it be a wonderful, exciting adventure for each and every one of us!  It will take a while to load much of my work as I am a prolific artist.  And there are still a few teething problems understandably.   But feeling confident it will all work out!
This is a photo of one of the most special nights of my life in Firenze, Italy, being awarded the Botticelli Prize at the beginning of this month, March 1st 2015. And thank you to a very special person for making this dream trip a reality for me.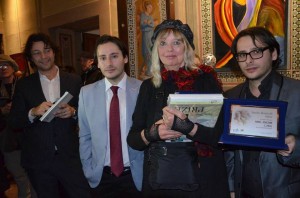 Posted in Blog
(comments are closed).