Arts Open – Meet the Makers – Maldon/Castlemaine March 2020 – Part of the proceeds will go to ANIMALS AUSTRALIA
February 4th, 2020 by Liadaan
Looking forward to my open studio in Maldon on 7,8,9 and 14,15 March.  Everyone welcome. PART OF THE PROCEEDS WILL GO TO ANIMALS AUSTRALIA. Contact me for the address.  Lots of bargains.  I will also have paintings and sculptures on show at the beautiful Ash Tree Gallery in Taradale.
Have just finished setting up one wall of the carport which leads in to the studio.  I have another 3 walls to go and still have to set up all the sculptures on plinths.  ps.  The nude with red and yellow isn't finished yet……..just put it there for effect.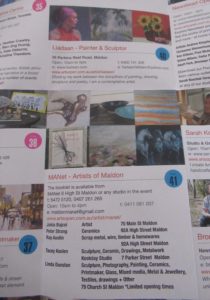 Posted in Blog
(comments are closed).